Bringing the best in Folk, Country, Bluegrass, Celtic and Traditional music to the Rhode Island and Southeastern Massachusetts area
Bristol's Stone Church Coffeehouse will reopen for in-person concerts in September 2021. We are thrilled to invite back old friends and welcome new friends.
​This will be our 15th season. The Stone Church Coffeehouse is located at the First Congregational Church (300 High Street in Bristol, RI).
Seating is limited and reservations are mandatory. Doors open at 7:00pm. All shows start at 7:30pm.
To make a reservation or for more information, please call (401) 253-4813.
* Tickets are $20 for adults; Students are half-price; Children 5 and under are free.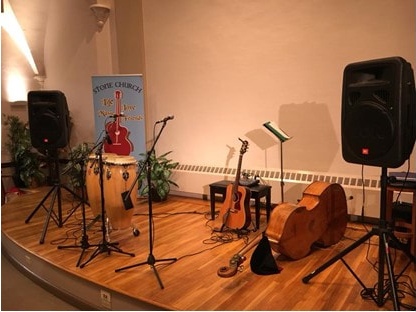 Our stage is quiet for now. Thank you for making our 14th Season so successful by supporting our live concerts and awesome musicians!
Have a great summer! See you at our next show on September 25