Welcome to the First Congregational Church in Bristol
The First Congregational Church in Bristol is a vital, progressive Christian community of faith with long roots in our community.
We promise you our friendship and prayers as we share the hopes and labors of the Church of Jesus the Christ. We pray that God grant that — loving and being loved, serving and being served, forgiving and being forgiven, offering grace and receiving grace — we may dwell together in love, unity and hope.
We are Bristol's first and founding church. We have been here since 1680, formed by the same leaders who founded the town of Bristol a few months after the church was gathered. In 1785, more than a century after our founding, our congregation and our sixth pastor, the Reverend Mr. Henry Wight, began the Bristol 4th of July Parade and Patriotic Exercises. So we are the Founders of America's Oldest Fourth of July Celebration.
Today, our congregation is known for its broad support for our community and our willingness to speak out regarding social justice issues. Sunday services, under the leadership of Pastor Deborah Tate Breault, are relevant and thought-provoking.
No matter who you are or where you are on life's journey, you are welcome here!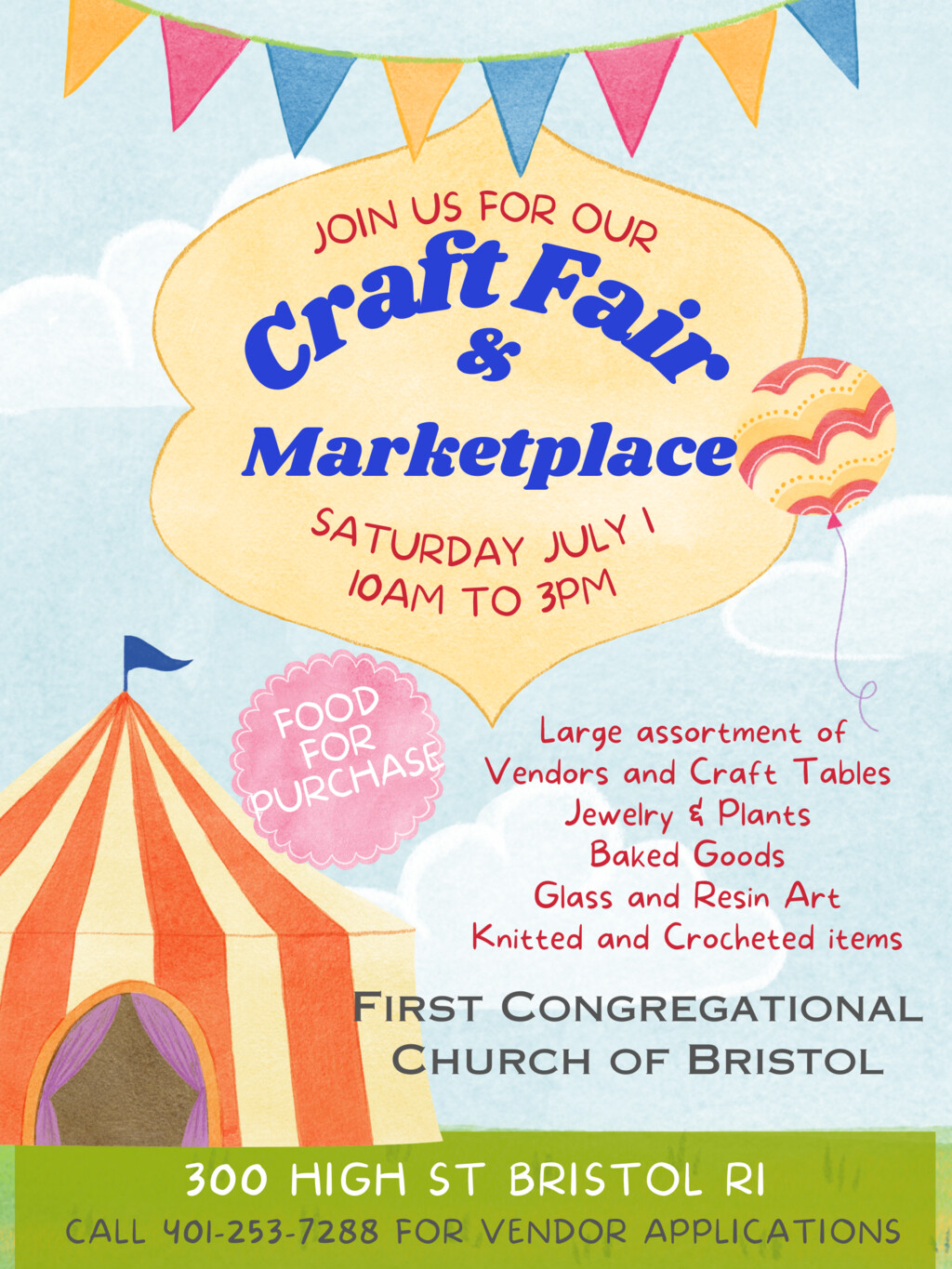 Dozens of area crafters, delicious food, summer plants — all for sale at the FCC Bristol Annual Craft Fair. Stop by and cruise the crafters' tents to find the perfect gift or decorating accent. Then relax in the shade with a cool drink and a scrumptious hamburger or hot dog….
---
In a stellar group effort, the members of the FCC Bristol Facilities Committee have replaced the deteriorating wood picket fence in front of the historic stone Guiteras House that serves as the church office and manse. Many hands made light…
"No matter who you are or where you are on life's journey, you are welcome here." This is the guiding light of the congregational family at First Congregational Church in Bristol. To signal our open embrace of diversity to the…
On a showery Sunday morning, the congregation of FCC Bristol came to church in their work clothes, ready to dust and clean and sort and sweep. On April 23, Clean-Up Sunday was the theme of our Spring service project. With…
We give thanks, O God, for this day of resurrection, this time of joy, this celebration of your loving power. Christ is risen! The tomb of death could not contain the Redeemer of life, and hallelujahs rise from our lips…
Scripture: Acts 2:1-21; Sermon: "Faith By Default"; Click here to view the Bulletin in a new window; View Video here: https://vimeo.com/831045996?share=copy ; Click icon for fullscreen video; Press ESC to exit

Scripture: Acts 1:6-14; Scripture: 1 Peter 4:12-14, 5:6-11; Sermon: "The Art of Asking"; Click here to view the Bulletin in a new window; View Video here: https://vimeo.com/828859723?share=copy ; Click icon for fullscreen video; Press ESC to exit

Scripture: Acts 17:22-31; Scripture: John 14:15-21; Sermon: "Love's Redeeming Work is Done"; Click here to view the Bulletin in a new window; View Video here: https://vimeo.com/826725060?share=copy ; Click icon for fullscreen video; Press ESC to exit

Scripture: Acts 7:55-60; Scripture: 1 Peter 2:2-10; Sermon: "Rites and Responsibilities"; Click here to view the Bulletin in a new window; View Video here: https://vimeo.com/824610721?share=copy ; Click icon for fullscreen video; Press ESC to exit