FCC's annual Women's Retreat traditionally takes place over the course of one weekend (Friday evening…
---
Recurring Events
Summer Craft Fair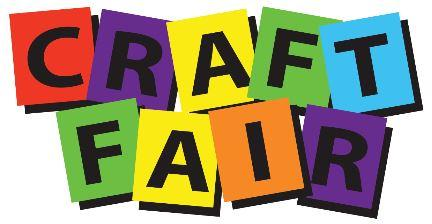 FCCBristol holds a Summer Craft Fair on the July 4th weekend every year. Dozens of New England's most talented crafters come every summer to show off their wares. In addition, Church members man their own stalls, selling handmade craft items, home-baked goods, and plants. You can even grab an icy drink or a hamburger, hot off the grill.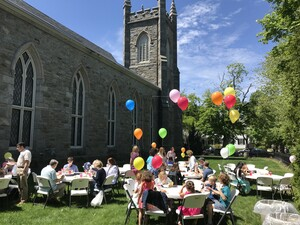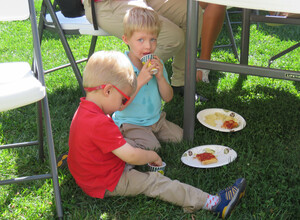 Stone Church Coffeehouse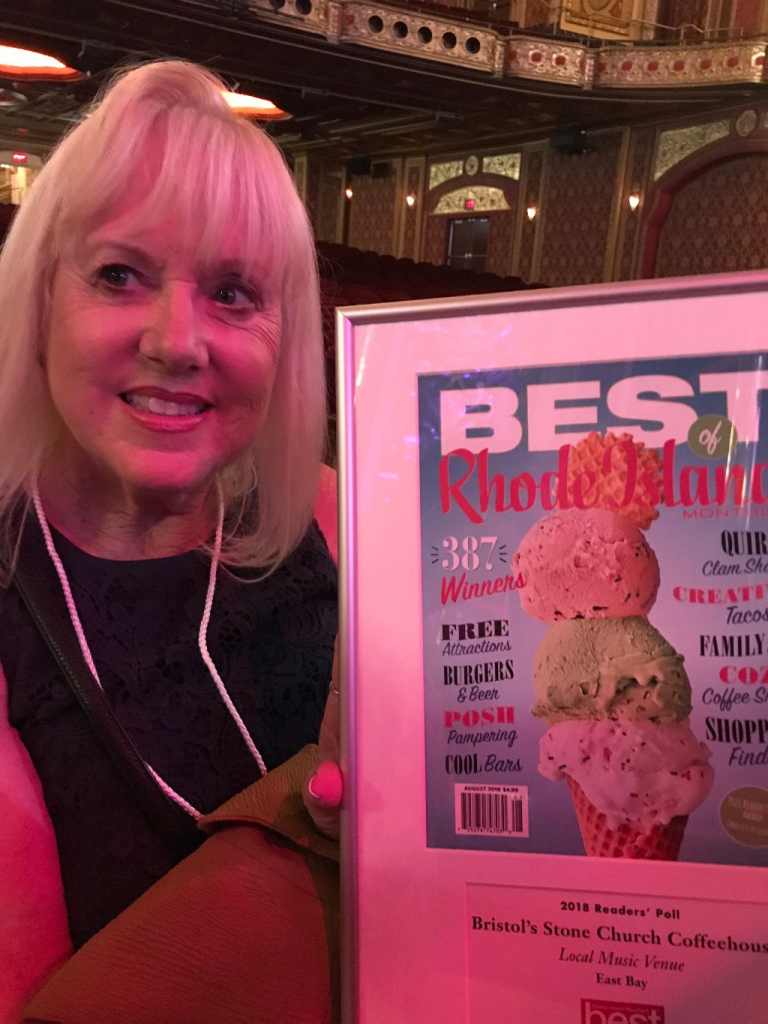 Now in its 17th season, the Stone Church Coffeehouse – winner for the past 6 years of Rhode Island Monthly's Best Local Music Venue on the East Bay – continues to bring live acoustic music — the best in Blue Grass, Country and Folk Music – to sold-out audiences every month, September through May (except December). The coffeehouse will be back in September 2023. Come for a great night of live folk music, or ask about how you can volunteer for a fun night with friends.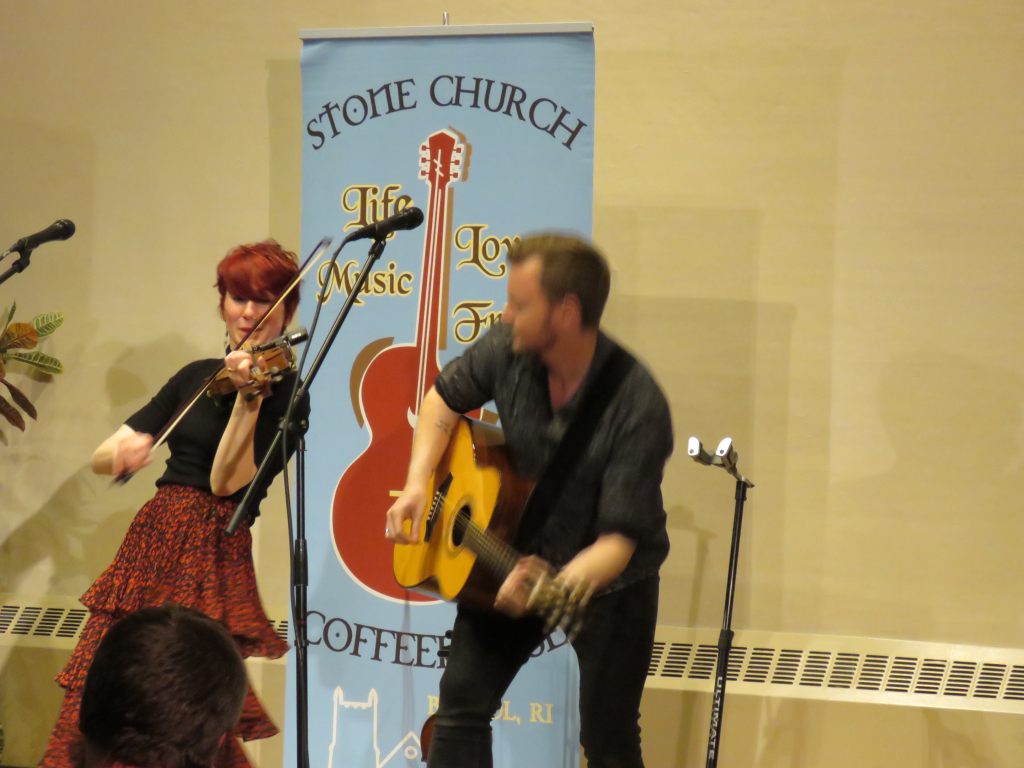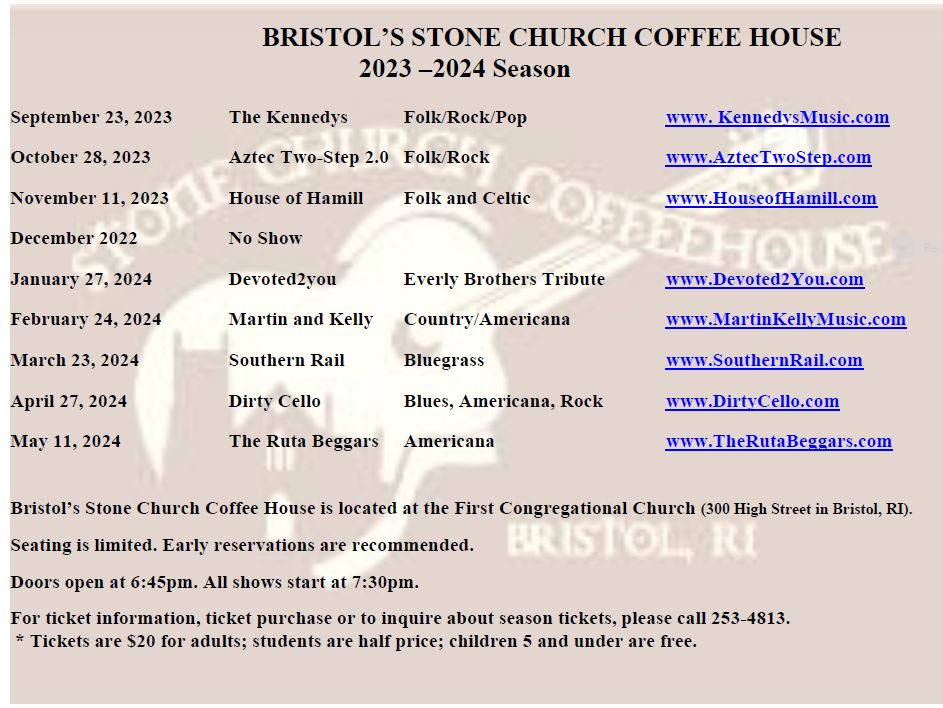 Silent Film Series & Children's Film Series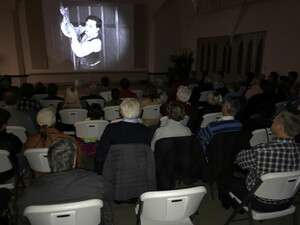 Silent Films at FCC draw a big audience for both its fall and spring programs. Accompanied as they were when first presented by improvised piano or pipe organ, FCC Silent Film series has shown such greats as King of Kings, The Hunchback of Notre Dame, The Phantom of the Opera, Dr. Jeckyl and Mr. Hyde, and Wings, as well as Buster Keaton comedies including The Cameraman, Sherlock, Jr., and The Navigator.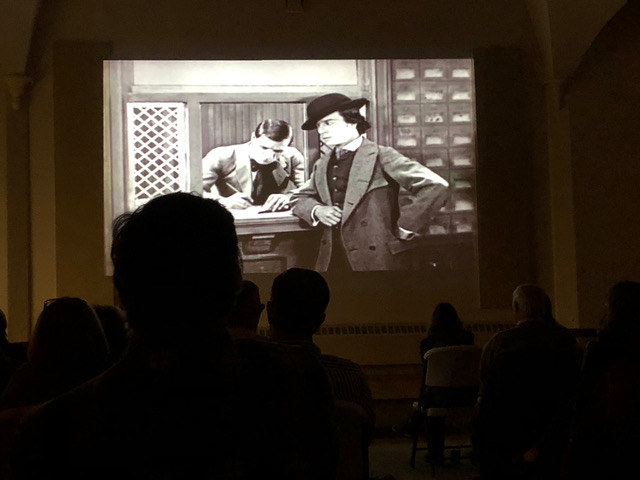 FCC also presents summer blockbuster films for families in the outdoor courtyard — complete with popcorn.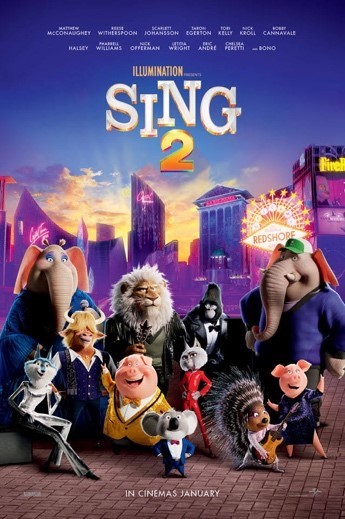 Food Fest – Harvest Moon Bazaar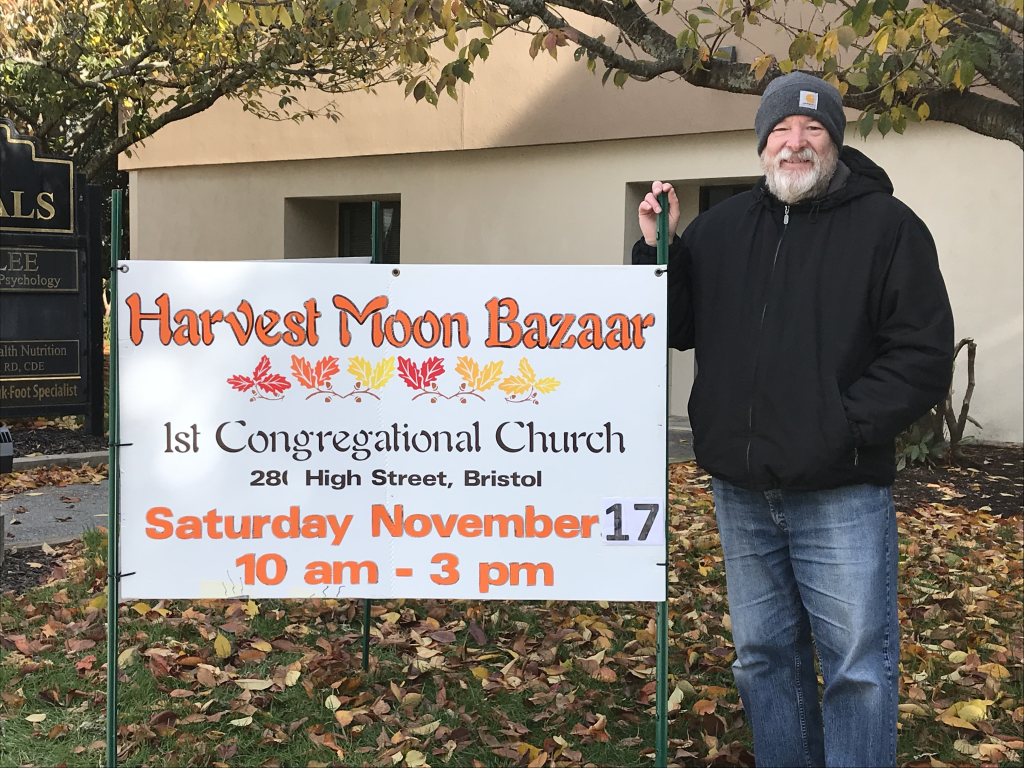 As the holiday season rolls around and thoughts turn to food, gifts, and holiday merriment each year, FCC Bristol's November Harvest Moon Bazaar fills the bill. Dozens of crafters from far and wide hone in on FCC to display their wares and a Silent Auction provides exciting finds at surprisingly low cost. Church members provide their famous wheel of Vermont cheddar cheese for sale. Hand-made crafts, a jolly encounter and photo with Santa, lovingly crafted Christmas wreathes and table decorations, plus our chef's famous Lobster Rolls prepared for your pleasure!
Cookie Walk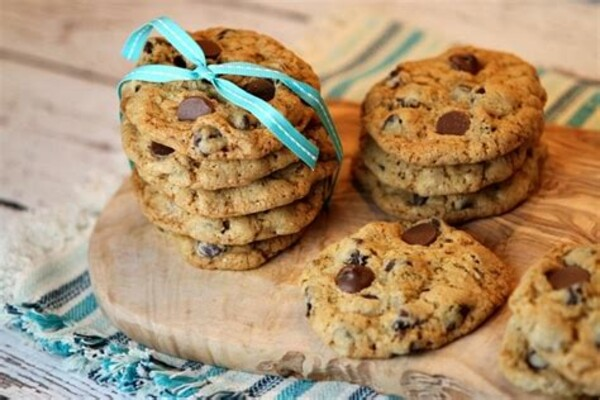 Each December, members of the church put on their aprons, take out their mixing bowls and start baking hundreds and hundreds of cookies to tempt our Cookie Walk patrons. This past year was no exception, as those in charge of the Cookie Walk found ways to keep everyone safe during the pandemic. Socially-distanced and masked patrons were still able to walk past the display of cookies, safely wrapped in plastic bags, filling their bakery boxes and paying for them "by the pound." We hope everything will be back to normal by next December. Whatever, the Cookie Walk at FCC Bristol will provide for all your holiday cookie needs in 2021, you can count on it!
Alternative Christmas
The purpose of "Alternative Christmas" is to identify and benefit partners in ministry who serve the needs of the community in specific ways that the church is unable to do by itself; and to provide an opportunity to make donations to area and global nonprofits serving the most vulnerable among us that will have meaning beyond Christmas Day, in honor or memory of a loved one. Alternative Christmas giving is open to both church members and to members of the community at large.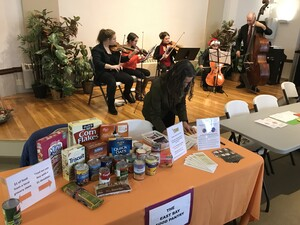 This past year, because of COVID-19, FCC was unable to host its annual, in-person Alternative Christmas Giving Event to seek donations. Instead, Deacons were able to promote this worthwhile cause by creating and publicizing an on-line donor event on the FCCBristol website to support nine charitable organizations that have participated in this event in past years: The Tomorrow Fund, The Bristol Animal Shelter, The East Bay Food Pantry, Heifer International, The Matthew Patton Foundation, S.H.A.R.E, Bags of Hope, R.E.S.T., and the Community String Project. Reports from these nonprofits were positive. We expect to be back to our regular in-person Alternative Christmas event by December 2021, so that we can again gather in the DeWolf Room in person, hear the strains of the Community String Project musicians in the background, and personally give our donations to the representatives of the area nonprofits which are doing such important and caring work for members of our community and throughout the world.
Fellowship Events
FCC is always looking for opportunities to get together and enjoy some good food and good conversation. Whether it is during the after-church Fellowship Hour, a supper after the Christmas Pageant, a Shrove Tuesday Pancake supper, a bring-a-dish Potluck before a Lenten Bible Study, an ice cream social, or the Annual Picnic, there are always plenty of hands to cook and clean up, to share and to laugh.
Special Events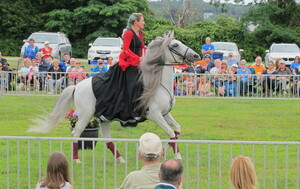 The Original Royal Lipizzan Stallions of Austria
In 2017, FCC Bristol brought the Lipizzans to Colt State Park for the whole community to enjoy. Across the world, for more than 300 years, thousands have been drawn to view the dazzling maneuvers of these rare white stallions. The Lipizzans were bred in the 16th Century by the Hapsburg royal family of Austria. The stallions gracefully prance, trot and canter in the fenced arena under the direction of a handler.
Concerts & Musical Events
FCC Bristol has sponsored concerts by talented musical groups over the years. The program offered by the chorus of Brown University was varied and exciting.
Brown University Chorus
We plan on bringing other groups to the church for concerts that the whole community can enjoy.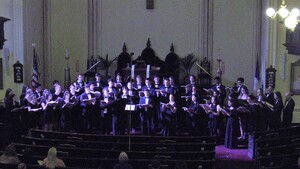 Bobby Jo Valentine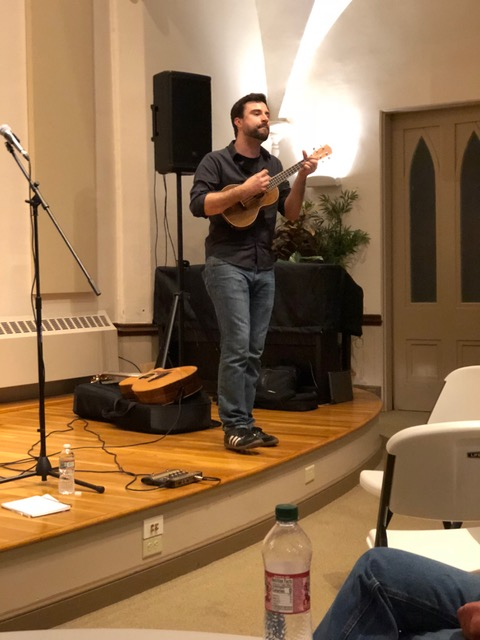 Bobby Jo Valentine, award-wining singer/songwriter and advocate for social justice from California, who has sold over 20,000 albums and performed more than 1500 concerts, came to FCC Bristol in 2019. Some website vibes: "Somewhere deep in the heart of everything lies a melody. It speaks to our truest selves, binds us together with the ones we love, and brings out the best part of who we are…Bobby seeks to write music that means something good, and speaks hope into the beautiful, sacred, terrifying, mesmerizing world that we live in…he can invite big questions, challenge easy answers, and inspire people closer to love."
The Nicavangelists
In June 2019 FCC Bristol was blessed to welcome the Nicavangelists to our worship service to perform a powerful dance, athletic, and hip-hop drama that powerfully presented some of the challenges these young boys have faced in their home country of Nicaragua.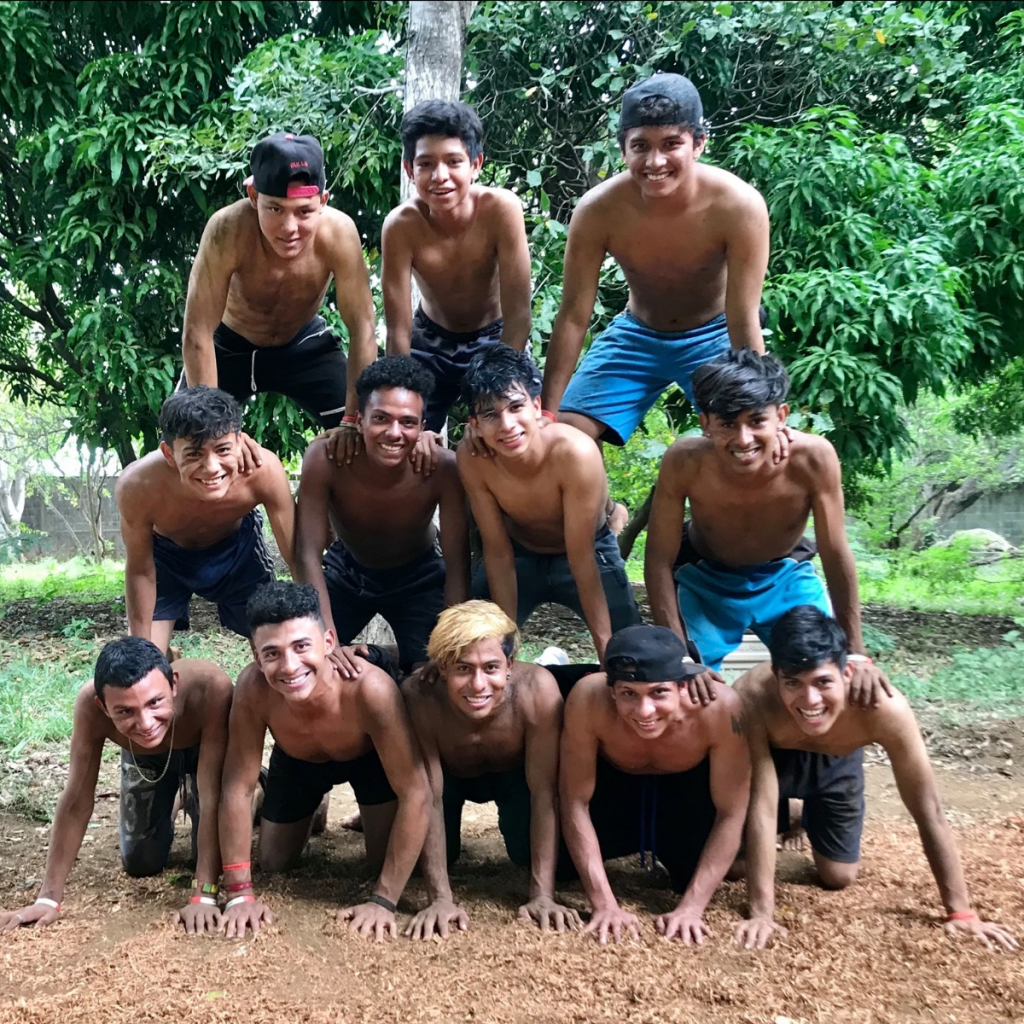 "Kids, teenagers, youth…living in poverty, forced into prostitution, fighting for survival in gangs…the fatherless, the orphaned, the rejected and abused…each one is special and possesses potential for greatness." The Nicavangelists advocate for Nicaraguan youth, the real victims of the Nicaraguan socio-political crisis.