August 27, 2023 marked another day of transition in the 343 years of FCC Bristol's history. Due to Rev. Deborah Tate Breault's decision to retire, our congregation is saying Good Bye to our pastor. On this, her last Sunday preaching in Bristol, she and the congregation together spoke a Liturgy for Ending an Authorized Ministry.
On November 1, 2020, this church called Rev. Deborah Tate Breault to serve as Transitional Minister. As part of the Liturgy, words of gratitude, forgiveness and acceptance were spoken by both the minister and the members of the congregation. Through vows of Release by both parties, the congregation confirmed their focus on continuing the ministry of the church, looking forward to the congregation's relationship with the new minister who will come to serve FCC Bristol.
Barbara Watts, who has faithfully served the church as Executive Assistant for the past 16 years, was called to the chancel during the morning's service to recognize her contribution to the well-being and ministry of the church.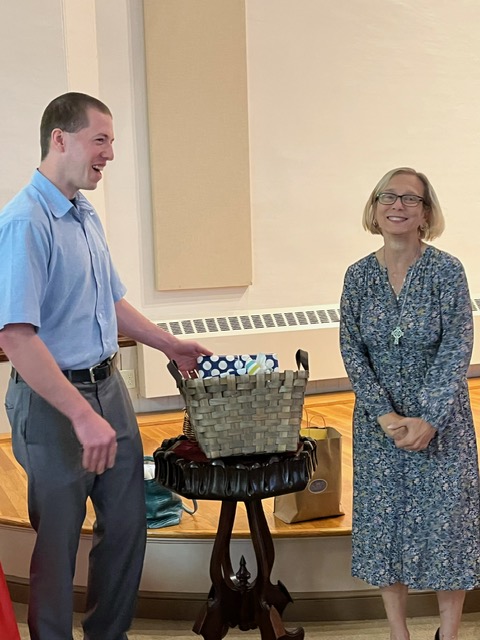 Following morning worship, the congregation joined Pastor Deborah in the Dewolf Fellowship Hall for a celebratory luncheon. Happily, many members attended in person who on other Sundays join us via LiveStream. We are thankful for the ministry of Pastor Deborah at FCC Bristol and wish her every good and joyful experience as she leaves our church.